3 wheel electric scooter Is the Future
3 wheel scooter for adults
Three-wheel scooter for adults have grown in popularity as adaptable and effective forms of private mobility. These scooters provide an easy way for adults to move through urban surroundings and take part in outdoor activities thanks to their stability, simplicity, and appropriateness for different environments. The pros, disadvantages, and considerations of three-wheeler scooters designed specifically for adult use are examined in this article.
Three-wheel scooter for adults blends comfort, maneuverability, and stability to provide a dependable means of transportation and outdoor exploration. These scooters offer a flexible option that caters to the needs and interests of individuals looking for an accessible and fun means of transportation, whether for daily commute, leisurely rides, or greater mobility.
Three wheel electric bike
Electric trikes, often referred to as three-wheel bikes or e-trikes, have become a game-changing alternative for people looking for a balance between comfort, stability, and environmental friendliness. These cutting-edge vehicles serve a wide spectrum of users, including seniors, commuters, and people with mobility issues. They combine the advantages of electric power with the steadiness of three wheels. We examine the characteristics, benefits, and prospective uses of three-wheeled electric bikes in this article.
The majority of three-wheel bikes have ergonomic seating configurations that are comfortable and often resemble those of regular bicycles. This guarantees a calm and enjoyable trip. Three-wheel bikes are suitable for anyone who might be worried about balancing on two-wheeled vehicles since the third wheel adds stability.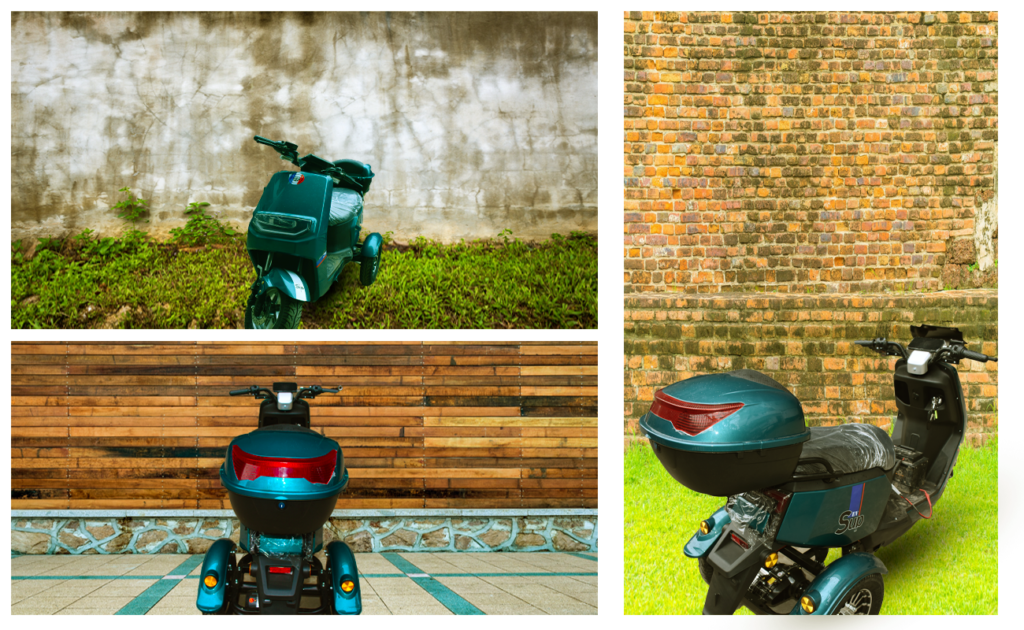 Polyurethane paint, also referred to as PU paint or PU coating, is a durable, highly-resistant coating used in industrial and architectural coating systems, it is the best quality of paint that we use in prakriti e-scooter. The metallic effects available in PU are superb; Deco fails to give that effect. All the metallic effects are not available in Deco but available in PU, it gives a mirror shine effect to the e- scooter.
As for all the mechanical system we have a restart button which is the saviour when the machine is not working properly. So, our prakriti made a modern mind to keep a button of REPAIR SWITCH BUTTON for the safety of the passenger if any emergency situation comes in the long way. This button helps the e-scooter for being safe while riding it. As we all know that e- scooter is the gift to our environment, so from this we can clearly see that e-scooter is all over a red cherry in the cake.
Cruise control is best suited for long drives on large, straight roads with cars traveling at a relatively constant speed. It's inappropriate in stop-and-go traffic when weather conditions are bad, on narrow, curvy roads, or with frequent speed limit variations. In most vehicles, in the e- scooter the buttons that control it situated on the right side of the e- scooter.
The side-stand cut-off system switches off the engine when the side stand is on. Though this is not completely new to the Indian market, but prakriti e- scooter made it an important feature in their scooter as prakriti scooter choose safety over anything.
The aim of a fire protection system is to protect a building's occupants and minimise the damage associated with fire; it is the unique feature in our prakriti e- scooter that saves many lives. Fire protection systems can be categorised as either active or passive.
This is one of the unique features of prakriti e- scooter, every e-vehicles have drum brake. The brake (disc) which rotates with the wheel, is clamped by brake pads (friction material) fitted to the calliper from both sides with pressure from the piston(s) (pressure mechanism) and decelerates the disc rotation, thereby slowing down and stopping the vehicle, Prakriti e- scooter is always in the row in this competitive market
Various Finance Available
We have multiple finance options available with attractive figure and low cost EMI.
17 Floor, Room No. 10 Chatterjee International Centre 33A, Jawaharlal Nehru Road Park Street Area, Kolkata West Bengal- 700071
Landmark- Beside Metro Bhavan