E- Rickshaw Manufacturer in India
The advent of Electric Rickshaw In India were introduced first in Delhi in early 2010 to replace the physically demanding cycle rickshaws. Eventually, ever since, there has been no looking back because we all know Delhi is the most populated city and the eco-friendly mindset. They were promoted as an affordable and environmentally friendly mode of transportation with the enormous potential to close the first and last-mile connectivity gap. Additionally, e-rickshaws began appearing in other Indian cities, including Kochi, Lucknow, Amritsar, Ahmedabad, etc. For places like Gaya and Jamshedpur, e-rickshaws provide a paratransit option for bridging outlying communities and urban areas, locally. It was inevitable that electric rickshaws would catch on and become widely used.
Electric Rickshaw In India
The fact that the Electric Rickshaw In India market is booming is a fact that is well known almost all. It has already become a form of public transport that is now widely used across many cities of India, including Tier-2 and Tier-3 cities. But the advent of E-rickshaws and the emergence of Electric Rickshaw Manufacturers in India has only been recent. Ever since the Indian government declared that its fleet would be entirely electric by 2030, the three-wheeled modified battery rickshaw was sweeping the nation's cities. Our Big bull e-rickshaw is one of the competitors in today's world. It has all advanced technology with new feature of rear camera on it. The big bull e-rickshaw is one of the leading brands in pan India.
Big bull rickshaws are widely demanded in the market for their pollution-free and high performance. These electric rickshaws have a very simple mechanism. They run on electricity which is easily available and can be multi-sourced. You can come to our service centre and get the vehicles checked by the quality inspection team. We conduct rigorous inspections of each product before selling so that the buyers can be benefited in the long run.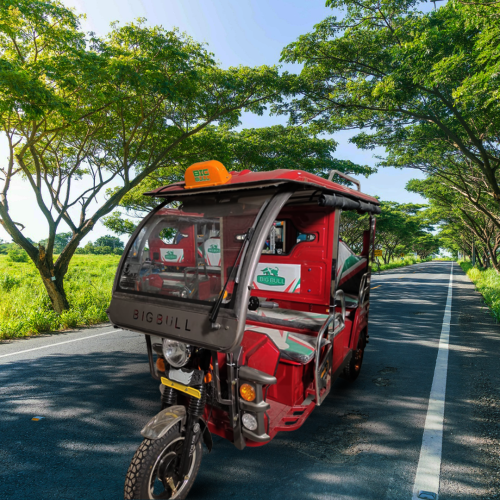 This E-rickshaw model has several common features like the other models Some are USP points with good mileage a strong body with 1000-weight motors and 24-tube controller easy to handle and a tire of long-lasting BIS-approved tyres.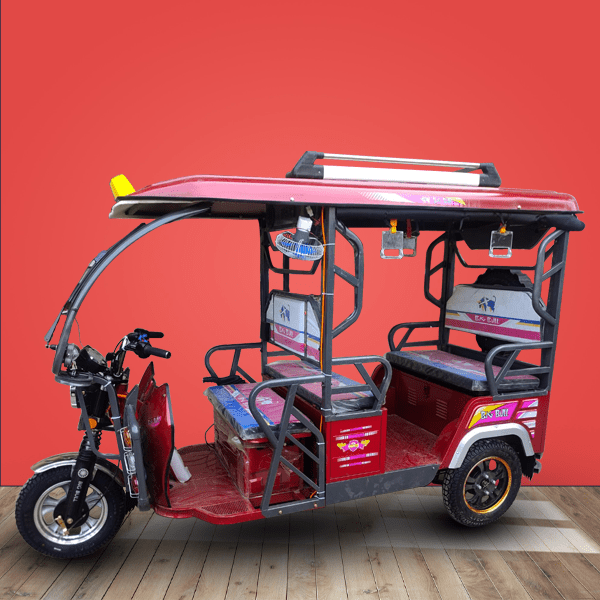 The main feature of this model is among all e-rickshaws this one is having the highest quality, with iron quality (MS). This model is having 12 kg weight which is the highest weight of all our super models with 1000-watt motor and controller smart 36 tube and black alloy wheel.  
This model has dynamic design with several common feature like the other models some are USP points with good milage and strong body with 1000 weight motors and 24 tube controller and easy to handle.
Electric Loader Rickshaw, often called an E-loader, is a three-wheeled vehicle used for carrying goods. It is an eco-friendly and economical alternative to petrol or diesel-powered electric vehicle loaders are easy to use and maintain and are economical and efficient. The controller and the motor of the electric loader is 1500w and the loader can load up to 1 to 1.5 ton.
This Model comes up with the best and strongest material body, which is superb in class in E-rickshaw. The back camera is installed on the top. The mileage and the speed are the best ever and with a strong body, which gives 100% protection and safety to the passenger. The motor used in this model is at an advanced level, which helps to gain the top speed, and the battery covers the maximum number of kilometers.
The main feature this model is this is this e- rickshaw have rear view camera and this model have variety of ranges which is iron and steel body. This model also has android mobile holder for GPS navigation with 43mm front stocker (hydraulic with spring).
Why we choose BIG-BULL when it comes to E- Rickshaw?
Our Top Rated USP
There are many new advanced features in our big bull rickshaw in different ranges of models, here we will see some of the main features below:
Why You Should Buy Big Bull E- Rickshaw
Big bull is one of the leading e-rickshaw brands all over pan India, with several completive feature which can race in today's world. Big bull e- rickshaw has many specific features which is not available in other completive market. Big bull e- rickshaw have many models with different designs and styles with variant colours in it. Currently, Electric rickshaws hold 83% of the total electrical vehicle market. Environmental and socio-economic benefits of Electric auto-rickshaws have resulted in approximately 15 lakhs e-rickshaws that increase every month with the sale of 11000 new ones.
There has been growing concern regarding climate change and its irreversible impacts on the planet. As a result, more and more governments and organizations are pushing for the use of vehicles that reduce carbon footprint. One of the major reasons why electric scooters are recognized as the future of transportation is their positive environmental impact.
Unlike other types of vehicles like gas-powered cars and motorcycles, electric scooters and electric scooter produce no carbon emissions. Since electric e- rickshaw do not use fuel to run, they do not release harmful gasses into the air. Charging this micro-mobile transportation for a few hours is enough to get you from one point to another with ease.
Big bull Electric Rickshaw In India can help reduce air pollution in highly urbanized cities. According to a study, e-rickshaw in the city of Bangkok is named as TUK- TUK. Overall, electric E- rickshaw will continue to contribute to a green future. It comes as no surprise because many are considering making the shift to e- rickshaw rather than harmful gas fuel auto. Even the world will change in to e- vehicle world one day,2030 approximately.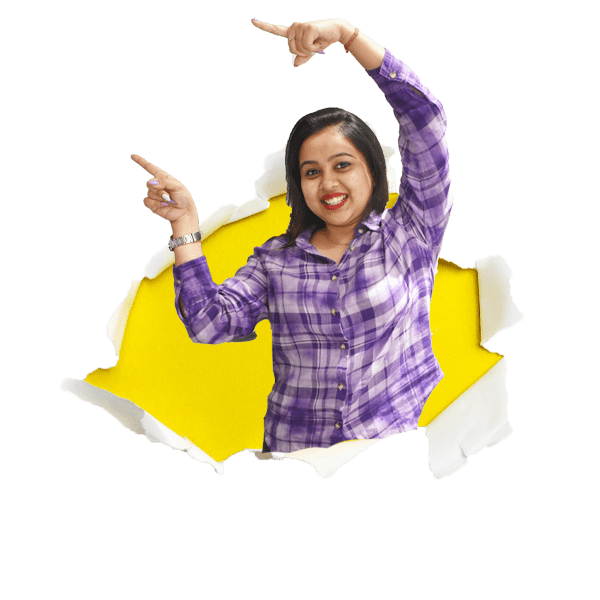 Various Finance Available
We have multiple finance options available with attractive figure and low cost EMI.
17 Floor, Room No. 10 Chatterjee International Centre 33A, Jawaharlal Nehru Road Park Street Area, Kolkata West Bengal- 700071
Landmark- Beside Metro Bhavan